Specifications
LOA -15'
LWL - 13' 9"
BEAM - 7'
DRAFT, Board up - 0' 6"
DRAFT, Board down - 3' 8"
Keel - 1' 9"
Displacement - Cnt. Brd. 390 lbs.
Displacement - Keel 600 lbs.
Ballast, Keel - 250 lbs
Sail area - 130 sq. ft.
Mast height above DWL - 25' 4"
Designer: - Jim Taylor




Design Comments
The Precision 15 is the smallest in the Precision Boat Works fleet, but she is by no means the least significant.
The Precision 15 has earned high praise from both owners and competitors for her lively and rewarding performance. And her affordable price and quality reputation have been achieved through simplicity of design and cost effective assembly, not compromises in her quality hardware and hand-laid solid fiberglass construction.
Designed to provide safety, stability, reliable handling, and sprightly speed under sail, she will shorthand beautifully under her large main alone; even better with her high aspect jib hoisted. And her centerboard with NACA foil sections gives her the utmost hydrodynamic efficiency upwind.
The Precision 15 features an unusually broad beam, substantial freeboard and high volume coamings to help prevent swamping or capsizing. She provides a large forward storage area and her cockpit is safe and comfortable for both adults and children, with footwells and seats unusually wide and deep.
With an unobtrusively low centerboard trunk and an elegantly simple swept spreader three-stay rig, the Precision 15 is beautiful both to see and to sail. And at only 390 pounds fully rigged, she's a snap to trailer and launch.
You'll enjoy many years of safe and spirited sailing in your Precision 15. It has been designed with great care and intelligence; constructed with professional integrity and quality craftsmanship and materials to provide you long and careful pleasure of ownership and outstanding resale value when you sell.
Jim Taylor
» » Link to the P-15 Parts List page
» » Link to the P-15 Photo Gallery
» » Link to the P-15 Manual page
» » Link to the P-15 Technical Specs.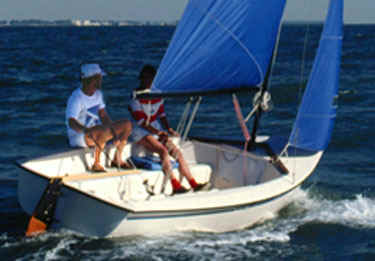 Standard Equipment
Hand laminated fiberglass construction
Vinylester resin hull skin coat
Foam flotation
9 ft. 4 in self bailing cockpit
Large forepeak locker w/watertight door
Lead ballasted keel (15K)
Ballasted fiberglass NACA foil centerboard (15 CB)
Covered centerboard trunk
4 mooring cleats
Kick-up rudder
Tiller extender
Harken ball bearing blocks
Jib track with cars and harken cam cleats
Harken boom vang
Anodized mast and boom
Hinged mast step
Stainless steel standing rigging
Dacron running rigging
Stainless steel bow eye
Main sail and jib
Price of Boat and Accessories
Base Price With Standard quipment
Center Board:
Keel:
$8,995.00
$10,430.00
Roller Furling Jib With Furling Gear in lieu of Std.
$398.00
Fiberglass Rudder Blade in lieu of Wood

$190.00
Boom Vang

Standard
Main Sail Cover - Dark Blue Sunbrella

$242.00
Jib Sock W/RF Option

$299.00
Tiller Cover

$40.00
Cockpit Cushions (P&S) Vinyl Covered Foam

$775.00
Portable Ice Chest

$
Outboard Motor Bracket

$75.00
Removeable Foam Mainsail Head Board Float
$199.00
Transom Mount Mast Carrier

$69.00
Galvanized Trailer Single Axle
$1,440.00 CB
$1,860.00 Keel
Bunker Load Fee, Boat Shipped w/o Trailer

$155.00
Notice: All pricing subject to change without notice, FOB Palmetto, Florida.
Prices do not include transportation to the dealer, state & local taxes, dealer preparation (commissioning) bottom paint, ground tackle or safety gear.
Please consult with your authorized Precision dealer to select and budget for these additional items.

This price list supercedes all previous published lists, and subject to change without notice. Effective 02/11/2019